In July 2001 we moved into our new house and bought a Mitsubishi WS-65907 65" Diamond HDTV and a Mitsubishi SR-HD5 DirecTV/HD receiver. Nearly all of the San Diego stations broadcast a digital signal, so naturally I was eager to receive digital signals OTA (over-the-air). Because of the terrain in San Diego county, reception can be problematic. The signal reflecting from the multitude of hills can cause multipath problems. Being in a valley virtually assures poor or no reception. In addition, two stations, KFMB (CBS) and KGTV (ABC), broadcast from Mt. Soledad in La Jolla, three stations, KNSD (NBC), KSWB (WB) and KPBS (PBS), broadcast from Mt. San Miguel near Spring Valley, and one station, XETV (Fox), has their broadcast tower in Mexico on Mt. San Antonio. Fortunately we are on a ridge with line-of-sight to Mt. Soledad, 10 miles away at 224 degrees. Mt. San Miguel is 20 miles away at 147 degrees and Mt. San Antonio is 31 miles away at 171 degrees. Mt. Wilson, where all of the LA stations broadcast from, is 103 miles away at 330 degrees. This map shows the location of the San Diego area antenna locations as well as a line to Mt. Wilson: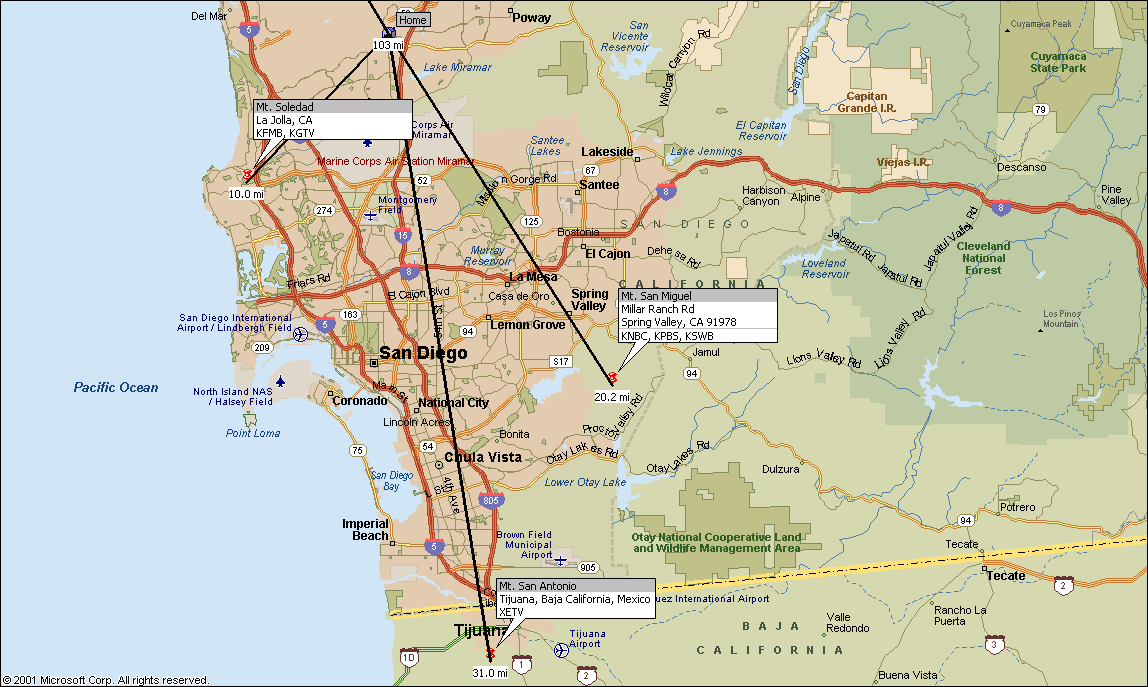 Initially I used the relatively inexpensive Radio Shack Double Bowtie Antenna (unfortunately, they no longer carry this antenna) on top of my TV and got good reception of KFMB and KGTV but this was only 10 miles away and line-of-sight to Mt. Soledad. I was also able to get KSWB from Mt. San Miguel, but not KNSD. KPBS was not yet online. XETV, the farthest station, did not come in consistently. I was also able to get some stations from LA, which all broadcast from Mt. Wilson, 103 miles away (!) at 329 degrees, but this was inconsistent and only at night.
I then tried the Silver Sensor, an antenna from England. This is a highly directional antenna and required precise aiming for each direction that I wanted to receive. I was able to get better reception from XETV and also from the LA stations, but the LA stations still weren't consistent. I was still unable to get KNSD.
In August 2001 I decided to install a Channel Master 3021 UHF antenna in my attic. I chose the CM-3021 antenna because it was small enough to be shippable, narrow enough to be able to be mounted between the rafters in my attic, and I had read a post on the HDTV Hardware Forum on AVS Forum from someone in Scripps Ranch that said that they could get all of the LA stations with this antenna. A Channel Master 9521 Antenna Rotator was necessary because of the four different directions of the broadcast towers.
The CM-9521 Rotator is designed to mount on an antenna mast. It has four long permanent bolts protruding from the motor housing that are designed to be used with a couple of supplied brackets to clamp it onto the mast. There are no other mounting holes in the housing, so I decided to use those bolts to mount the rotator to a piece of wood which I could then screw to the joists in the attic. I used a scrap piece of 2x10 27" long as the mounting platform. I then drilled another scrap piece of wood so that the four bolts from the housing would protrude through the wood. I screwed that piece of wood to the platform at a 90 degree angle and then added a couple of side braces so everything was nice and sturdy. The housing was bolted to the platform and the platform was screwed into the joists in the attic. The antenna was then mounted onto a 5' Radio Shack antenna mast and the mast was installed onto the rotator. RG-6 coaxial cable was connected to the antenna and the coax cable and the control wire for the rotator were run over to the eaves, out through a hole I drilled in the eaves, down the outside wall, and then through another hole in the wall into the family room. The rotator control wire was hooked to the rotator controller, which can be operated via an infrared remote control. Pictures of the installation are below.
I still can't get KNSD, but that is primarily because they broadcast at only 18 kW ERP (Effective Radiated Power) and the other digital stations broadcast at 300 to 700 kW ERP. The San Diego stations that I get consistently are KGTV, KFMB, XETV, KSWB, and KPBS, which came online in September.
I can now get all of the LA stations consistently, including KCET (PBS) and KNBC, which were my primary goals. The other LA stations that I get are KABC, KCBS, KTTV (Fox), KCOP (UPN), KTLA (WB).
---